Used Cutter Suction Dredger for Sale or for Charter
Cutter Suction Dredgers for Sale
500 mm (20") Modular Cutter Suction Dredger
Direct from owners: Modular road/rail transportable, late nineties EU built, BV class, one inboard pump:  1.050 kW, cutter power: 140 kW, spud carrier and anchor booms. Far East. Price: Inquire
| | |
| --- | --- |
| Class | Bureau Veritas.  laid up. |
| Configuration | 1 x main pontoon, 2 x side pontoons and 1 x spud carriage pontoon |
| Dimensions | 22,00 m x 8,00 m x 2,50 m. L.o.a. 35,00 m. |
| Light weight | approx. 145 tons |
| Pipe diameter | 550/500 mm |
| Dredging depth | max. 15,00 m |
| Cutter power | 140 kW |
| Dredge pump | Double walled |
| Pump drive | 1.050 kW |
| Aux. diesel engine | 300 kW |
| Spuds | 2 pc, Length: 18,50 m, diam.:   0,55 m, weight: 5,25 tons/each (approx.) |
| Spud carriage | stroke 4,50 m (approx.) |
| Anchor booms | yes |
| Deck crane | 30 ton @ 3,25 m |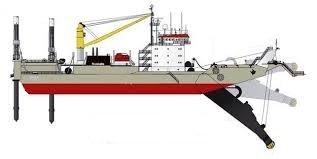 Various Cutter Suction Dredgers are available for sale, but at owners request, not being actively advertised.
Please contact us for further information
A Cutter Suction Dredger is a stationary dredger equipped with a rotating cutting device (cutterhead) mounted to the end of a ladder and which cuts the material prior to being sucked up by flow of a powerfull suction pump. During the dredging process the Cutter Suction Dredger's ladder is pulled near the cutterhead by two side wire winches from side to side and rotates horizontally in a radius of about 70-90 degrees. At the aft side of the Cutter Suction Dredger is fixed in the horizontal plane to the a certain position on the seabed, usually by means of a spud pole. After the material has been sucked up, it usually enters one or two powerful  inboard pumps, which pump the material via a floating line to e.g. a sandfill. A Cutter Suction Dredger is more suitable to dredge the harder materials.