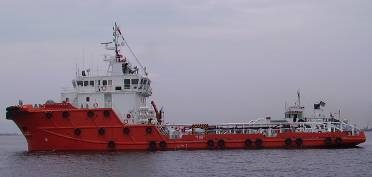 PSV FiFi-1
5 September 2016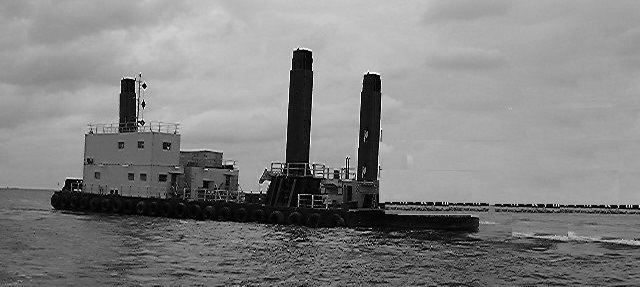 Spud Pontoon / Work Barge
5 September 2016
PSV DP2 FiFi1 Oil Rec. SPS Resale
2016, BV, Loa 78.00 m, width 18.60 m, depth 7.80 m, scantling draft 6.40 m. Deadweight +/- 4,000 tons. deck cargo: +/- 1,500 tons. Deck area 800 m2, accommodation 60 persons. Price: Inquire
CLASSIFICATION
BV 1 +HULL +MACH SUPPLY VESSEL OIL, PRODUCT (FP>60 DEG C) LHNS, FIRE-FIGHTING SHIP 1 WATER SPRAYING, OIL RECOVERY SHIP. SPECIAL SERVICE – SPECIAL PURPOSE SHIP, UNRESTRICTED NAVIGATION, +DYNAPOS AM/AT R, INWATERSURVEY, AUT-UMS
            
MAIN PARTICULARS
 
Loa
78.00 m
Lbp
70.20 m
Breadth moulded
18.60 m
Depth moulded
7.80 m
Draft designed
6.00 m
Draft Scantling
6.40 m
Max Deadweight
about 4,000 t @ 6.4 m draft
Accommodation
8   x  1-berth cabins  =  8 men
4   x  2-berth cabins  =  8 men
11  x  4-berth cabins = 44 men
total:                                 60 men
Performance Speed
13 knots at trial condition, 100% MCR, at ballast draft of 4.7m, and sea state two (2)
Deck Cargo
1,500 t
Deck Area
abt. 800 m2, deck design load 7.5 t / m2
            
 
CARGO CAPACITY
 
Portable Water
600 m3
Fuel Oil (including cargo)
1,400 m3
Cargo Fuel Oil
600 m3
Drill Water / S.W.Ballast
1,250m3
Dry Bulk Cargo Tanks
300 m3
Mud / Brine (SG 2.5)
800 m3
Rec. Oil
1,000 m3
Base Oil
200 m3
Methanol / Chemical
200 m3
            
 
MACHINERY
 
Main Engine
Two (2) units of marine engine, 3,000 PS each, medium speed. With front PTO for fire pumps and shaft generators. Run on MDO. Starting by air.
Fi-fi pump and shaft generator can operate simultaneously
Propulsion System
Z-peller two (2) sets, fixed pitch propeller. Driven by main engine through shaft. Control at wheelhouse aft and forward control station
Main Gensets
Three (3) 550 kW diesel driven alternators (440V/3/60Hz). Starting by air.
Shaft Generator
Two (2) 1,100 kW shaft generators, driven by main engine front PTO through 1-in-2-out gear box
Emergency Generator
One (1) emergency diesel generator set, radiator or air cooled, rated approx 99 KW (440V/3/60Hz).
Bow Thruster
Two (2) transverse tunnel CPP bow thrusters of about 14 tonne thrust, each to be driven by 940 kW electrical motor with VFD starter. To be lower noise type with skewed blade and double duct fitted with noise damping material.
All necessary controls and interlocks to be provided.