1000 m3 Self-propelled Split Hopper Barge
20 noviembre 2022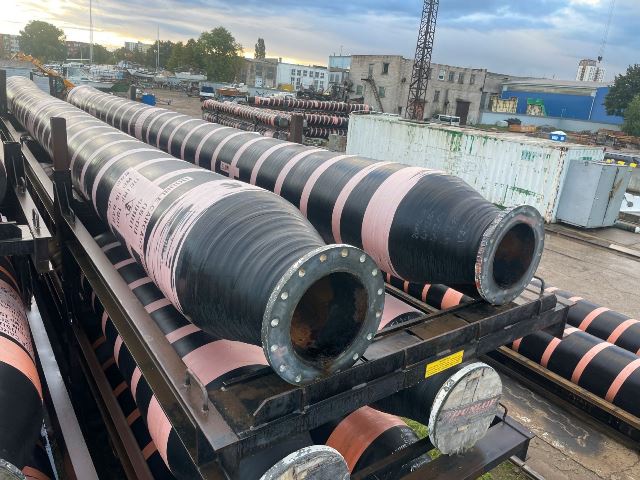 ID 16″ & ID 12″ Floating hoses
28 noviembre 2022
Mooring winches 1200 m x 38 mm (2x)
Mooring winches originating from an Sub Sea Vessel (SSV). location: The Netherlands. Enquire
Equipment :                            2 sets used Electrical Mooring Winch, complete with fairleads, wires and one 3 t flipper delta anchor
Make :                                      Norcrane
Windlass Drive System :      Electra Hydraulic Power Pack (not supplied)
Model No.:                               NCW-EMW/SD-60T/100B
This winch unit consists of a drum fitted with a pair of bronze bushings, rotating on a shaft and driven by an electric motor via an open spur gear and a gear reduction unit.
The main shaft is support at three positions with bronze bushing enclosed in cast steel housing and bolted to the structural steel skid.
The drum can be engaged or disengaged by means of an air operated jaw clutch. It is positioned on the 2nd
The drum is fitted with an air-operated band brake. The brake is a wrap-up design and there are two halves around the race of the brake drum. Each half has a frictional material lining bolted to it.
Specification of the winches
Capacity:                                          1200 m x 38 mm (S.W.R. @ 13 layers)
Rated Pull :                                       60 t x 0 -7 m/min (1st layer), 7.5 t x 0 -27 m/min (1st layer)
Drag Brake:                                      5 t x 120 m/min (1st layer)
Brake Holding:                                 100 t (Static, 1st layer)
Brake Assembly:                             Spring Loaded, Air Released, Fail-Safe Type
Clutch Assembly:                            Air Operated